1/5
FACETS — MAKING THE INTERNET OF THINGS TANGIBLE
A TOOLKIT TO SUPPORT DESIGNERS IN TALKING ABOUT CONNECTED PRODUCTS WITH THEIR CLIENTS.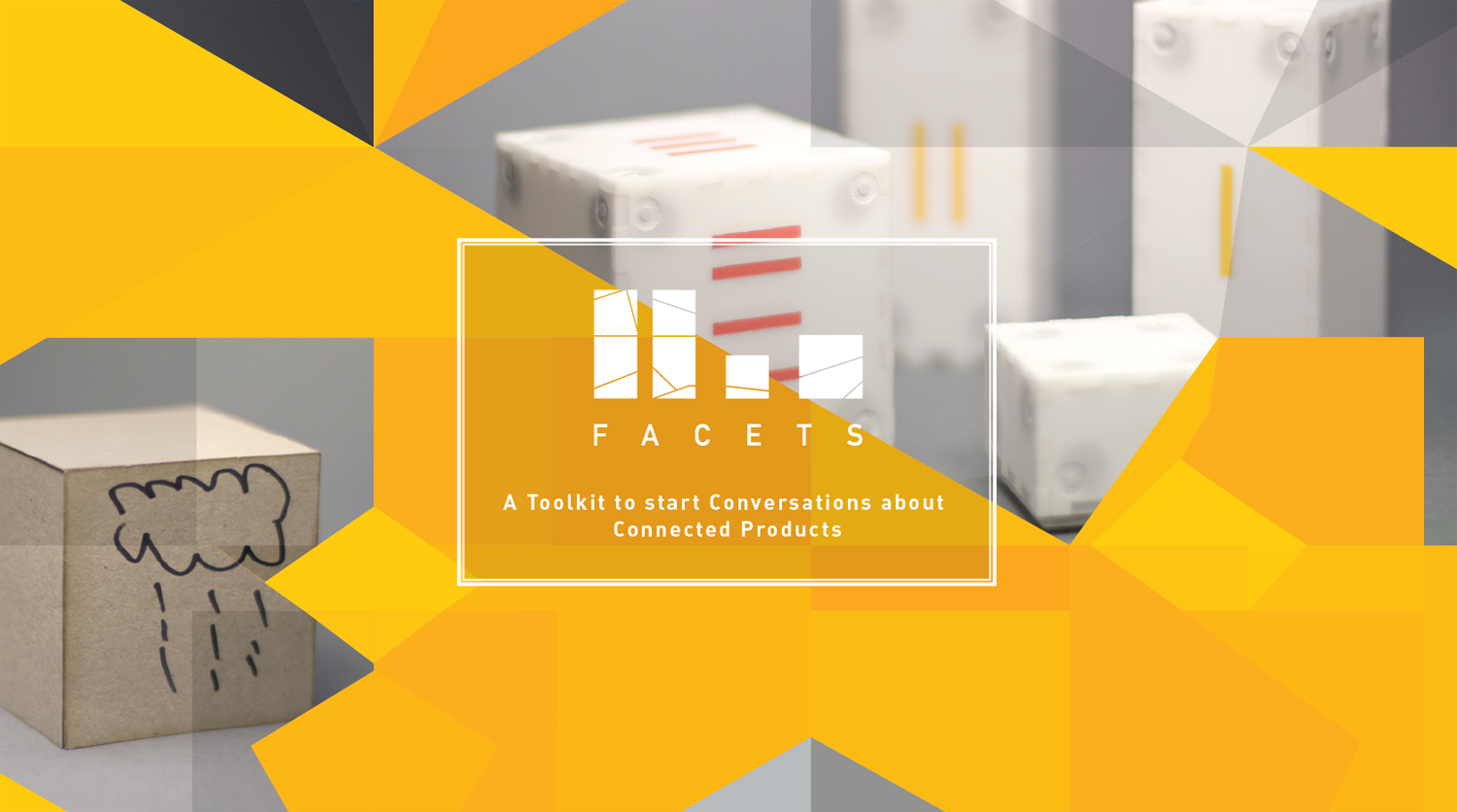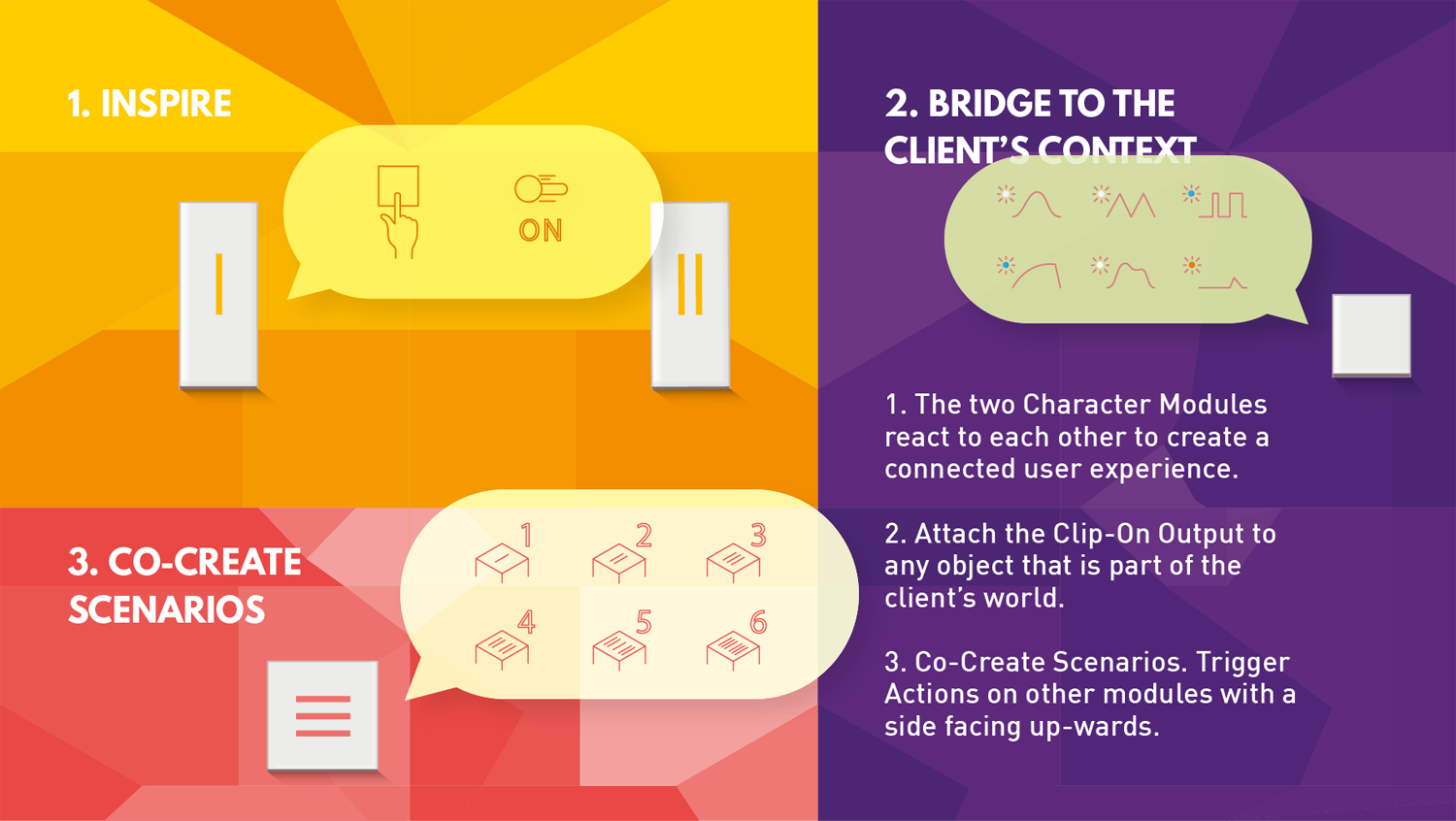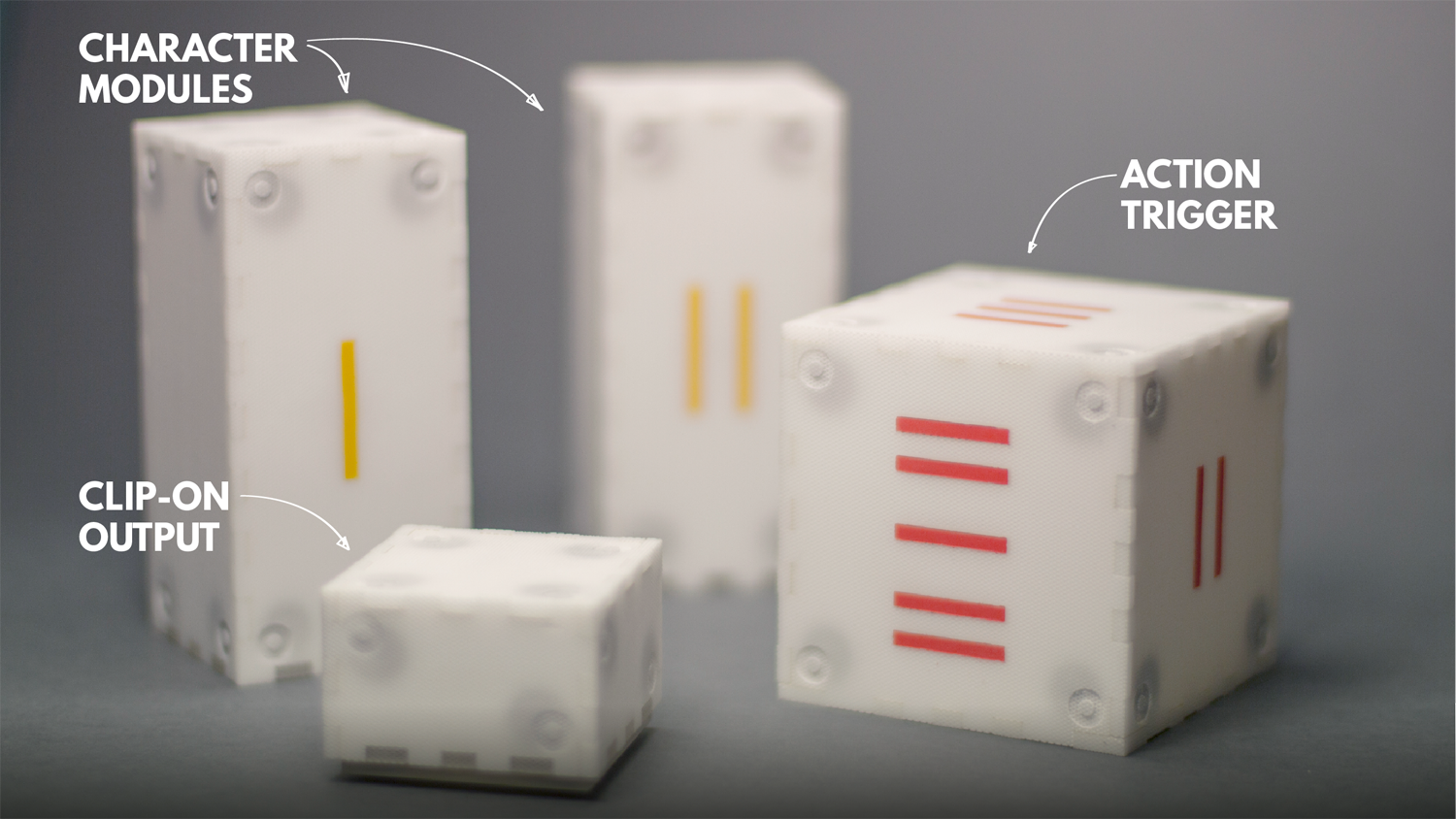 The Toolkit
The working prototypes are connected via Wifi. Some boxes act as input and others as output.
Changing the Appearance before the Meeting
The skin of the modules is exchangeable due to magnets holding the box together. The surface can be anything from fabric to wood or printouts on thick paper.
Behavior expressed through Light Patterns
One of the character modules is lit up and shows a pattern to communicate a certain state or event.
Inspire the Client
The character modules are meant to inspire the client. The different surfacing is used to give the objects a specific character supporting the story the designer wants to tell.
Bridge to the Client's Context
The conversation should shift from talking about the toolkit to thinking about the client's products. The clip-on output can be attached to nearly every product.
Co-Create Scenarios
The action trigger is a 3D post-it cube that can be drawn on. It triggers actions on other modules when being turned over to different sides.
Web Application
The behavior of the boxes can be changed in a web app.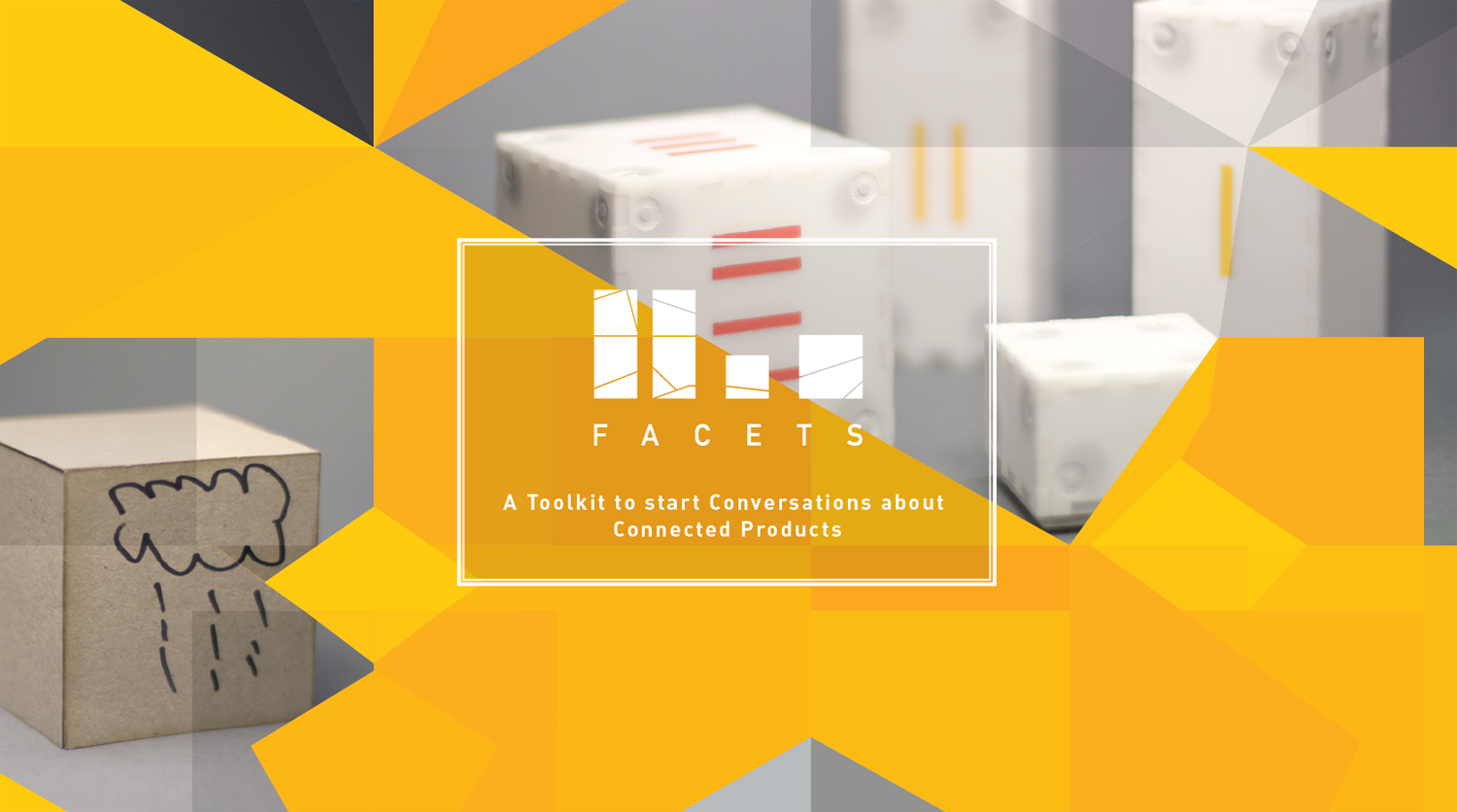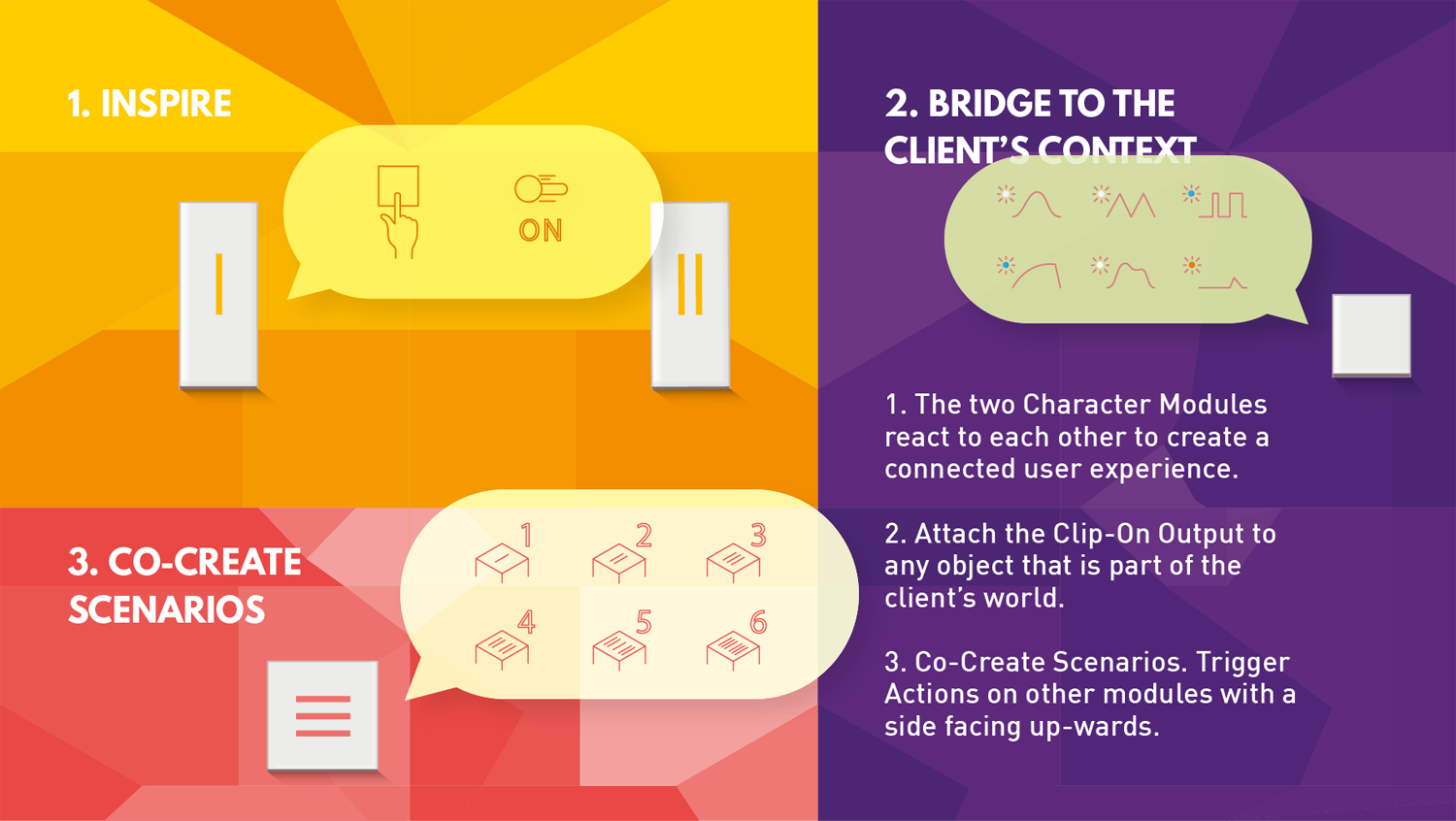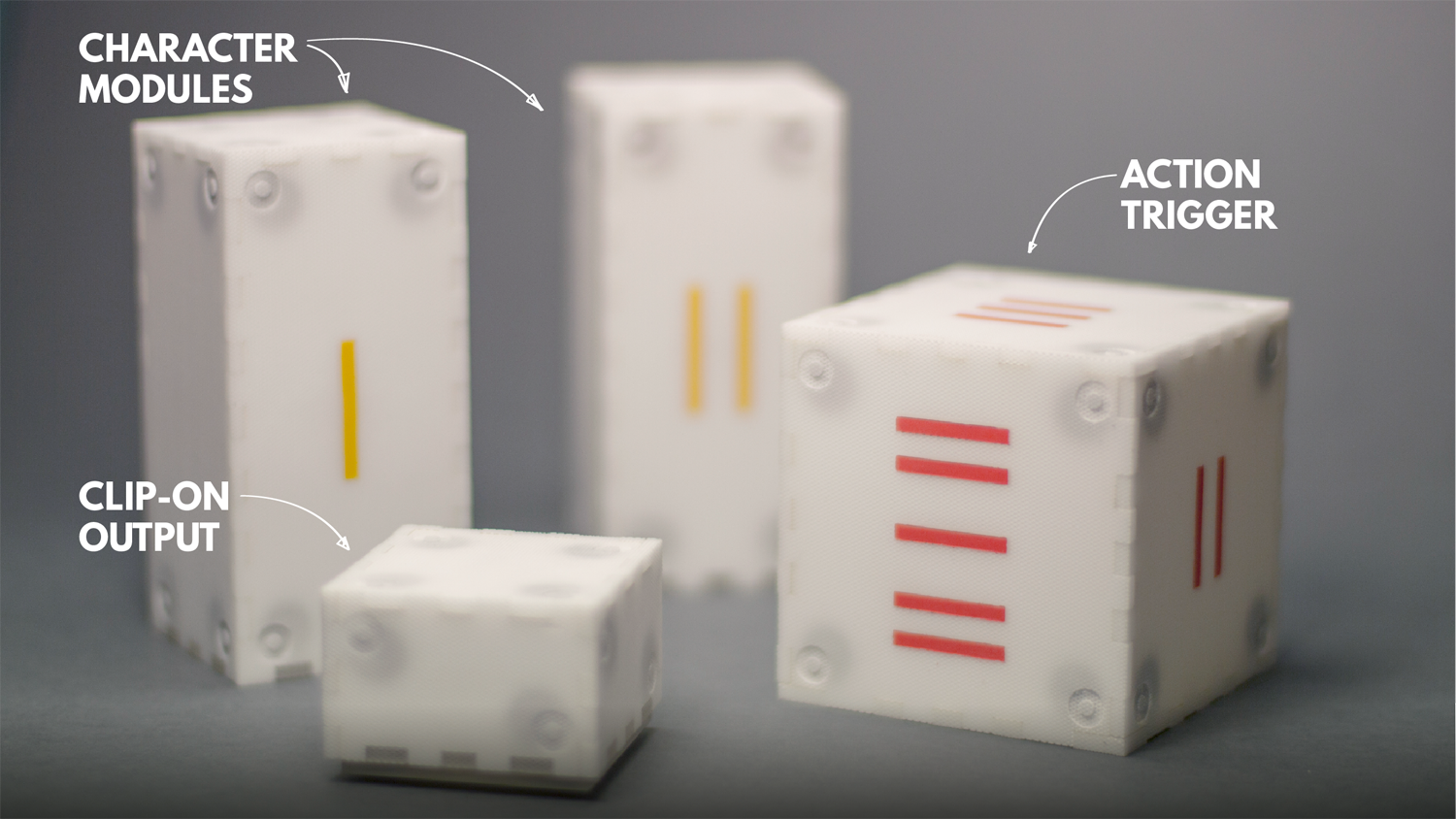 Degree Project in Interaction Design at the Umeå Institute of Design
Connected product-service systems are one the rise. More and more companies want to explore the new market sector.
However it is difficult to talk about abstract connections between things and connected user experiences that don't exist yet.
The focus of this project is the first meeting between designers and their clients. The project was developed in collaboration with the design and innovation consultancy Veryday.
The most interesting part for me in this project was to develop various experience prototypes to explore an opportunity area, to communicate a concept and to build a working prototype that can be tested at the client's side.
Early Workshops to define Directions
Creating working Prototypes
Using a 9DOF and the ESP8266 Wifi chip to send the orientation of the cube
Building quick working Cardboard Prototypes
Fine Tuning Light Behavior
Using an oscilloscope to visualize the brightness of the LED over time
2nd Iteration Prototypes
Sturdy HI-Fi prototype for testing with users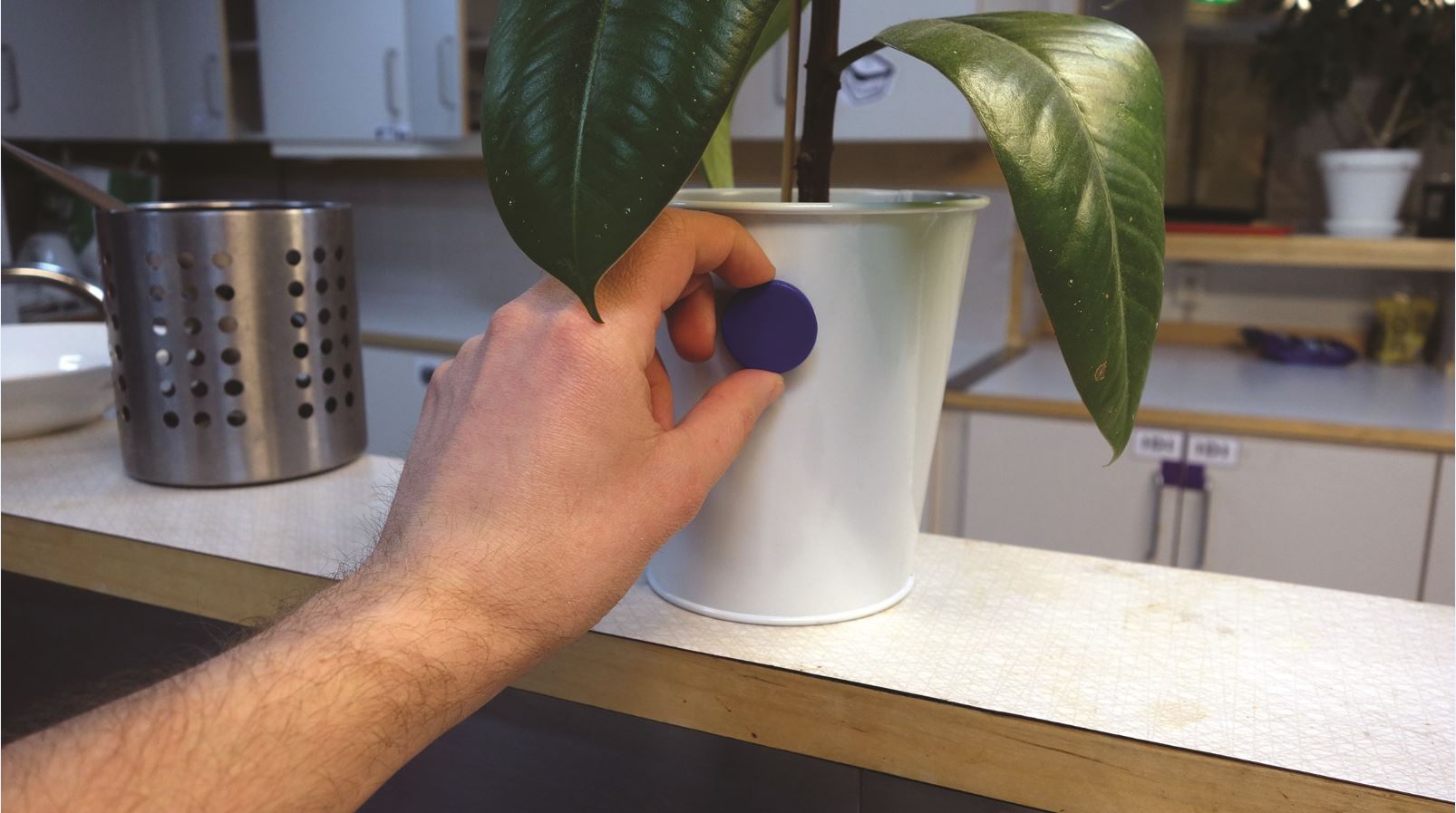 By adding an extra Element to an everyday Object we can talk about it in a different way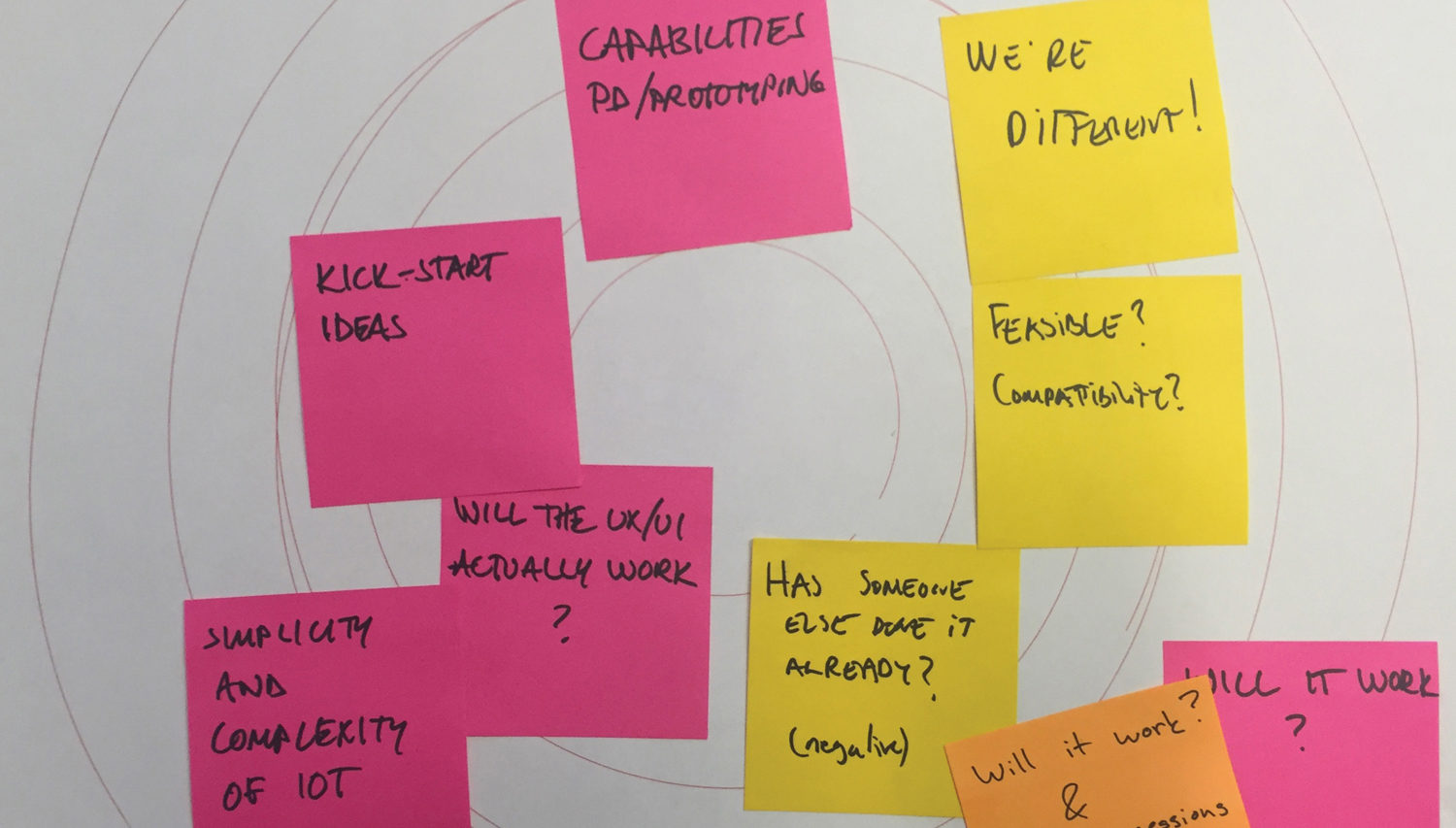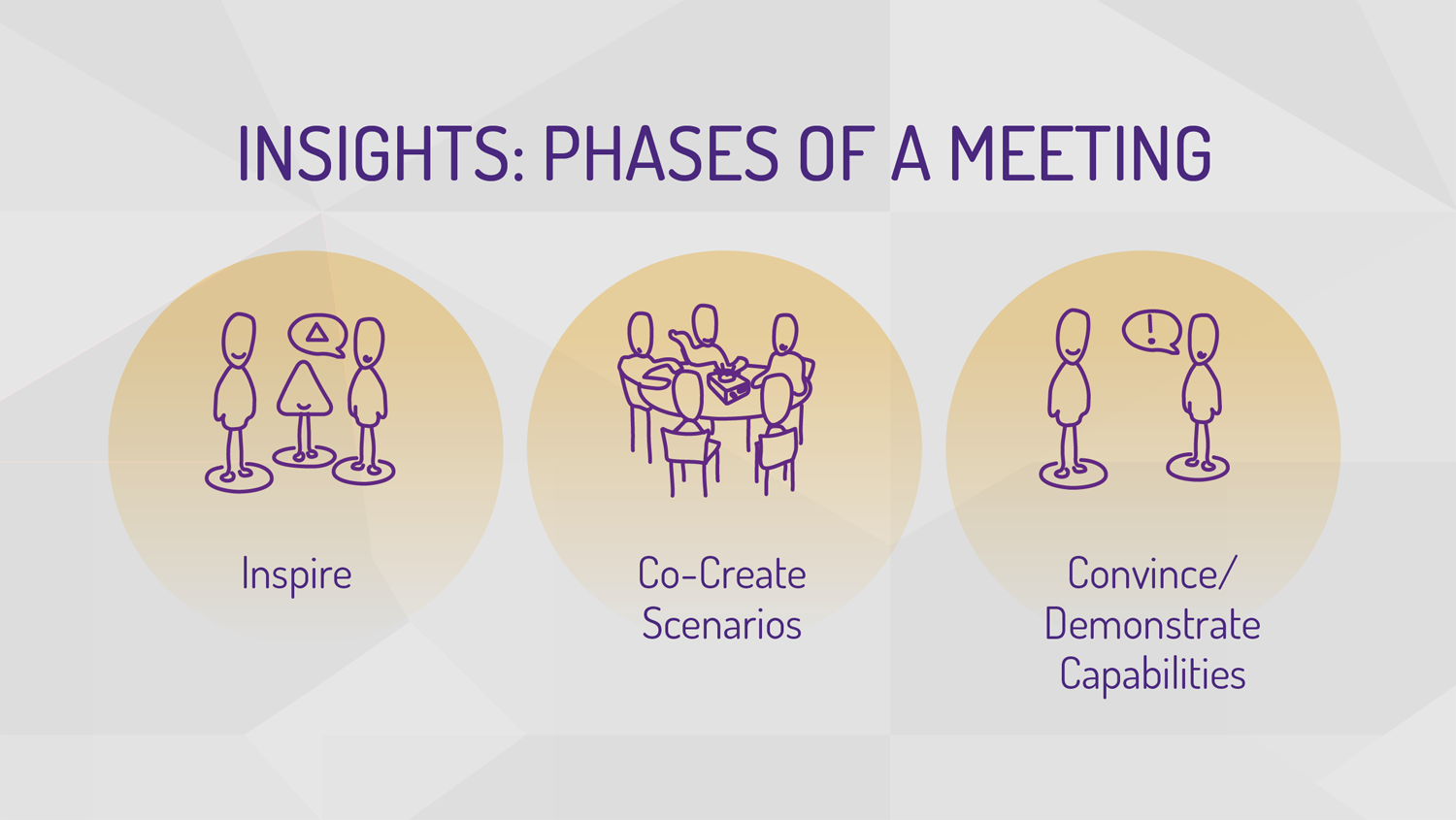 Early Version of the Touchpoints
Discussing the Prototypes within the Company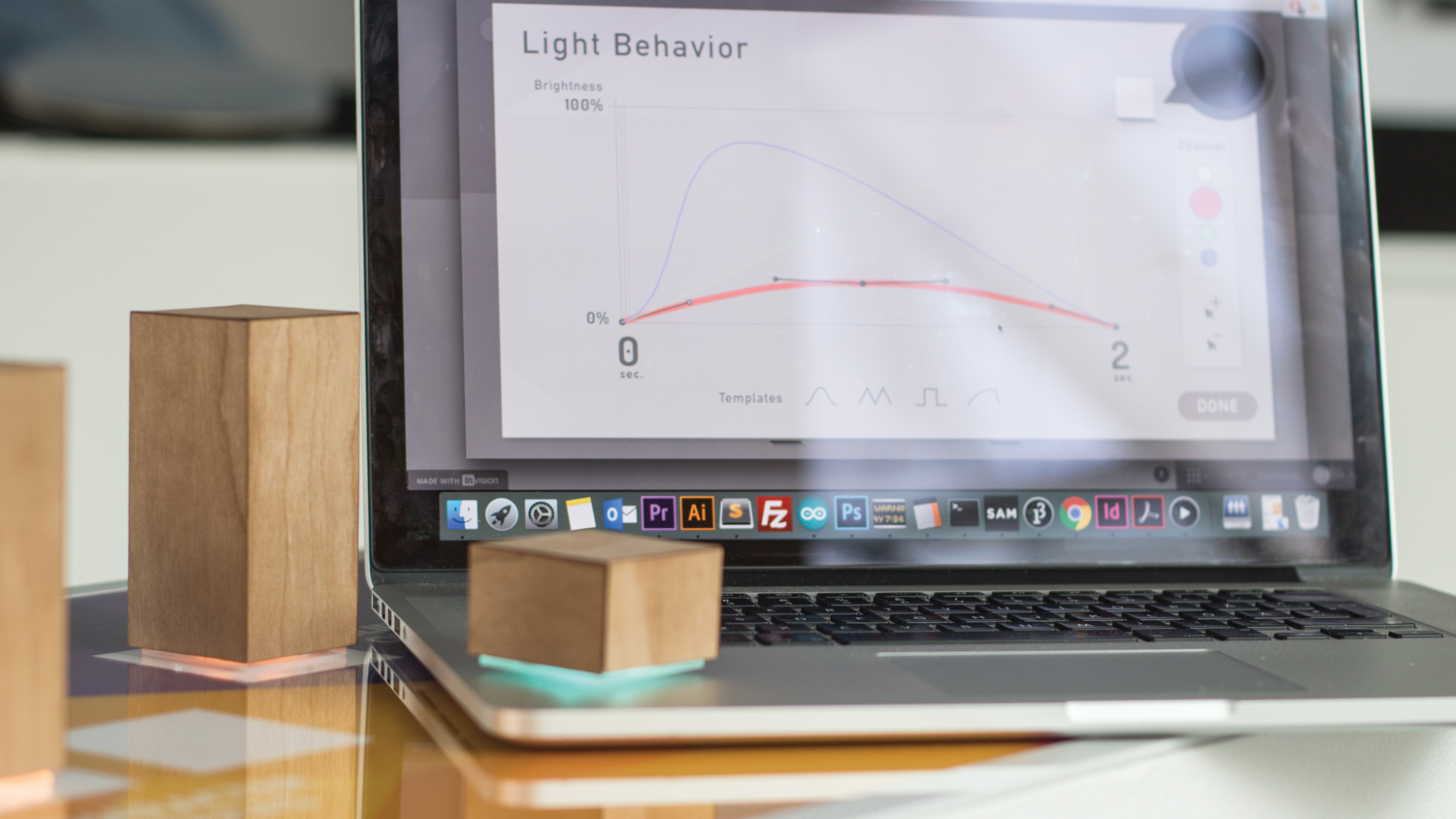 Wifi connected Prototypes controlled through Processing